Calendar of events
PONY CLUB INFORMATION NIGHT
September 19 @ 6:30 pm
Unit 1 - 401 Lakeview Drive Woodstock (OMAFRA building)
Educational meetings
**POSTING SOON!!
Woodstock Fall Fair English Horse Show
August 27, 2016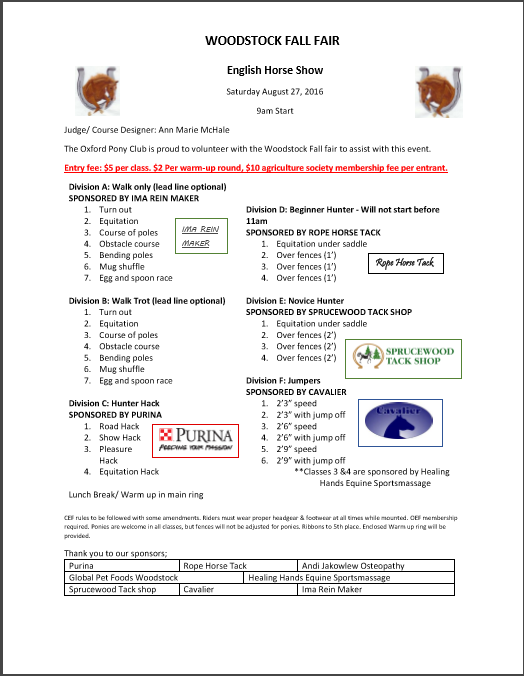 WOR PONY CLUB CAMP
July 11-15
Paris Fairgrounds
www.ponyclubcamp.com
Five great days and 4 great nights of fun and learning with your horse or pony.
All the fun of camp, roasting marshmallows, crafts, swimming, friends, but also the opportunity to learn and improve with two riding lesson per day with amazing coaches, daily clinician presentations, and fun equine games.
Tetrathalon mini meets
Guelph Pony club April 9-10
Millridge Pony Club April 24
Regional Events 2016:
Regional Quiz: April 2
Regional PPG: July 9 
Regional Summer Camp: July 11-15
Regional Tetrathalon: July 16-17
Regional Dressage: July 24
Regional Show Jumping: July 23
Regional D Rally: August 14
Regional ABC Rally: August 11-13
Regional LeTrec : September 24-25
NATIONAL EVENTS IN WOR
National Tetrathlon - July 3 - 7 
National A PPG - July 27 - 29 
REGIONAL MEETINGS (all held at U of Guelph): all parents are welcome to attend
June 15, 2016 7-9pm
July 20, 2016 7-9pm
September 21, 2016 7-9pm
***All above dates, times and locations subject to change!!